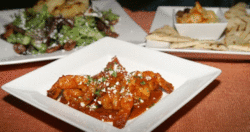 My mission is to help develop exciting new food programs in Seattle. I would love to hear any ideas that you have or possibly assist you with your program or getting one started. If you would like to talk please send me an E-mail.
Q. Why does Brown Paper Tickets have a "foodie specialist"?
A. Service and community involvement are a top priority for BPT. Aiding with growing and sustaining the Food & Beverage industry is also an important aspect my role here. Brown Paper Tickets has a very versatile system that is able to cater to just about any type of event. I believe my role exists to aid our existing producers in setting up their events and get the most out of using our service. In addition to this I work closely with local businesses using BPT to help them get programs going, and network in order to strengthen the industry as a whole.
Q. What is your background?
A. I started cooking when I was 15 years old. Started as a dishwasher and moved my way up to prep cook, then line-cook, and eventually Chef.
My training came from my chef's and colleagues. Professional cooking is one of the most competitive professions in the world, it's a sink or swim mentality and that makes for some very skilled and knowledgeable self taught professionals.
Q. What do you share with restaurants, chefs and tour operators that is helpful to them in creating foodie events and tours?
A. Guidance, and technical support mostly. It depends truly on the individual situation and what the client needs or is trying to accomplish.
In any given day I could offer advice for how to set up the event itself, or logistical support for the event if need be.
Q. Are you doing international work with food businesses?
A. Brown Paper Tickets Food and Beverage related events world wide.
I currently offer support for any where except the UK. BPT has an office in the UK that deals all matters there.
Q. Where do you see the future of food events?
A. I see small businesses making revenue streams for themselves using existing skills, space, and resources. Food & Beverage related business owners can hold classes in their off time, host special events, and tours for farms and factories.
That's not to mention street tours and larger functions such as conventions and festivals.
Q. What's the most a food event has made?
A. I am not sure of that exact amount but I have seen events easily take in thousands of dollars.
Q. Why should restaurateurs consider foodie events?
A. As there is with most industries the restaurant business has some seriously slow times of the year or even week for that matter.
Hosting foodie event during your slow season allows you to keep money coming into your business when you would normally not be.
Staffing a restaurant and keeping the product fresh is very expensive, If you are already paying for it why not be pro-active about supplementing that income.
Q. What types of foodie events are being held on BPT?
A. Brown Paper Tickets has a large variety of foodie events listed at any given time.
Events such as; Food tours, walking tours, wine dinners, brunches, cooking classes, festivals, tasting events, training events, and a ton of others. About 10% of our events are F&B industry related.
Q. What one piece of advice would you give food business owners about holding events?
A. The best piece of advice I can give applies to anyone. Do what you know. If you are an expert pasta maker and looking to host an event consider a pasta making class.
Sign up for a personal consultation with our resident Food & Drink expert Patrick and learn the tips and secrets for getting the most out of Brown Paper Tickets. Patrick has over fifteen years of experience producing Food & Drink events and as a member of our Client Services Team is fluent in all aspects of our site.
Click "Register" above to register!
**Use Brown Paper Tickets to sell tickets and build an online community**
*Include a detailed menu (including ingredients and descriptions)
*Chef/organization bio (People want to associate with this)
*Provide questionnaire for allergies/restrictions
*Make your refund policy clear to the customer
*Price the class accordingly (Food events are expensive make sure you cover the food and labor cost)
*Post high quality images of the dishes you will serve/cook (videos too)
*Spread the word to friends and consider a Friends & Family discount
(The F&B industry thrives on word of mouth advertising)
*If you are producing a theme event i.e. high tea or anything
traditional in style of service, include information on attire as well
when applicable
*If you have staff that could benefit from the knowledge, offer them Comp/discount tickets (training hours
are expensive, this will help train your staff and make you a cool boss)
*If you are seating or starting at a time that differs from the event
time set on your event you should specify when people need to arrive to be seated or meet and greet.
*If you sell any additional products or services and have regular business hours in which you are open include this information. It will only build both your special events and daily restaurant business.
*Extend the olive branch to like-minded organizations. Industry people need to support each other, building a community.